A Tale of Three Rivers
by Michael Brown
Recently I had the pleasure of fishing rivers both far and near, with friends from both far and near as well. The near river was the Llano, and the far rivers were the White River and the Norfork River in Arkansas. It's odd to note that in this case the Llano is nearby, relatively speaking. You may wonder what good is it to go fishing if you don't tell a tale or two afterward?
Arkansas
Having been an invited tyer at the Northern Arkansas Fly Fishers' Sowbug Roundup, I knew I was going to have the opportunity to fish and tie with friends from that area. Paul drove and drove and drove, and drove until we arrived near Mountain Home, AR. We stopped in at a local fly shop to talk with the proprietor about where has been fishing well and perhaps learn a new place or two to try during our visit. He suggested that we try an old ferry crossing on the White River several miles upstream from its convergence with the Norfork. The water at this crossing looked very nice and the flow was medium for this part of the river. I think we hooked a number of trout but were unable to bring them to hand before they decided they would release themselves. I caught a sucker, a couple perch and saw a few small bass. Paul caught something we have yet to identify.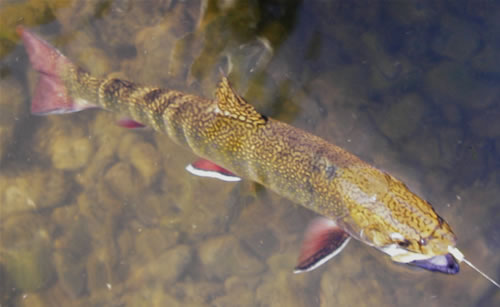 After a couple hours at that spot we decided it was time to go check in at the resort where we would spend the next few days. At the fly shop I had the opportunity to purchase some very small jigheads 1/180 oz. I knew exactly what I was going to tie as an experiment --. a Micro Matt's Jig. Having tied this and seeing that the river flow was low, Paul and I set out to fish behind the lodge... I worked my way up stream missing any number of strikes on the tiny jig. The first fish I landed on it was a very healthy Brook Trout. I think Paul was having success with Rainbows and and Brown trout closer to where he waded into the water. Darkness drove us from the water, leaving us wanting more.
The next morning we rose just after sunrise and suited/geared-up to fish before heading in to Mountain Home to attend the show, as luck would have it, the release warning horn sounded about 10 minutes after we started fishing, so a hasty retreat was made to shore, as fate would have it this happened Saturday morning as well.
On Saturday afternoon we had the opportunity to fish with a couple friends from Siloam Springs, AR -- Toby Vaughan and his friend. First on the White River near Cotter which was flowing pretty good and appeared to be rising. Paul and Toby's friend caught a couple rainbow trout but the fishing was slow and we worried about the current. We decided to go fish the Norfork at the River Ridge Access. Everyone caught fish and either hooked and lost a sizeable brown or missed a strike by one. This is where I caught a couple small cutthroat trout at dusk on a caddis -- three of the four species of trout had been caught, with a morning of fishing yet to go on this trip.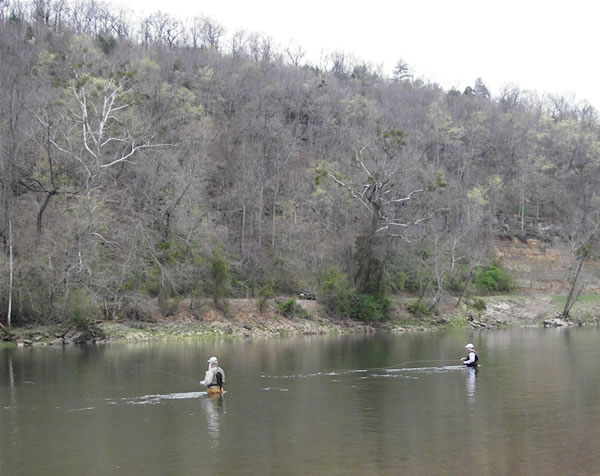 The weather forecast for Sunday mentioned that a front was heading in from the west, with the possibility of freezing rain or snow flurries. We awoke to a glorious calm, rather warm, Sunday Morning, with the river at a low level and we tempted Fate to see if we could fish for more than 10 minutes before they started to release water. The fishing was decent with regular bumps and the ocassional fish brought to hand, including a rainbow trout to complete my slam for the trip. About 8:30 the siren sounded, in essence telling us to go home to Texas.
We were amazed to see how much rain Dallas had received from the storm front -- over 12 inches in places, with flooded creeks and service roads as a result. On top of this, it seemed that every UT student from Dallas decided to return from spring break about the time we were passing through, making a long drive last a little longer.
The Hill Country

A little more than a week passed after the Arkansas trip when Matt Jennings came to Texas to visit his family and friends. It was great to see his wife and kids after a couple years. It was decided that we were going to fish somewhere in the hill country -- just where depended on the weather that week. Marcus Rodriguez suggested doing a float, that coming Friday, from the confluence of the James and Llano River to the next crossing some 4 or 5 miles downstream.
The Llano River near Mason is best described at a series of long pools and infrequent riffles, flowing through some of the prettiest terrain in Texas. I had heard that description from others but never had the opportunity to fish that stretch of it until this trip. It more than lived up to its billing.
Kevin Duren, Paul, Marcus, Matt, and I met at the golden arches in Fredericksburg and caravaned out to the Llano River, dropping off one car at the put out point and shuttling our kickboatsand other equipment to the launch site. Eventually, we started downstream picking up the ocassional fish (both Guadalupe Bass and some aggressive perch) as we worked the banks and other pockets. The fishing heated up as the temperature rose.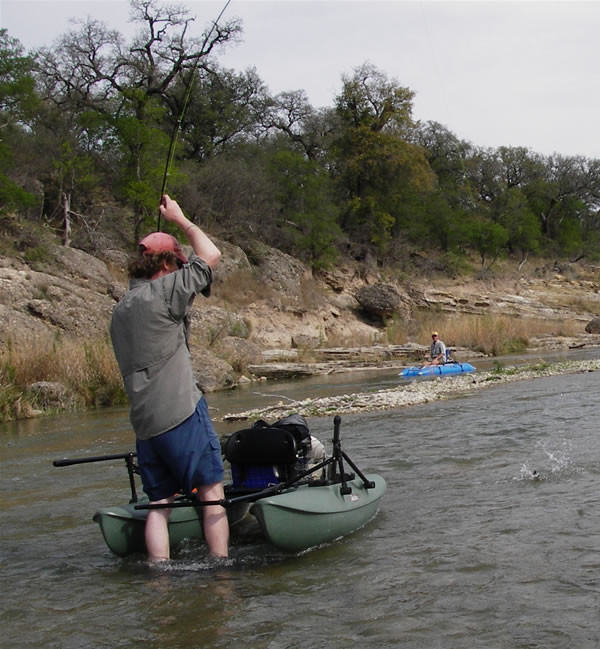 Everyone did their best to put sunblock on and try to avoid getting roasted by the bright sun. By the end of the day some of us faired much better than the fair-skinned among us. Matt remarked that his new found coloring was a great way to "shake off winter." I agree but hope it was less painfull than it appeared to be.
We got off the river about half an hour before dusk, leaving Matt to watch the boats and play with whatever fish happened to be lurking nearby while we went back to the launch site to retrieve the rest of the vehicles. It's rumored that Matt caught a nice bass near the crossing on a topwater fly, there may even be a picture of it somewhere -- it was just fun to hear about it afterwards.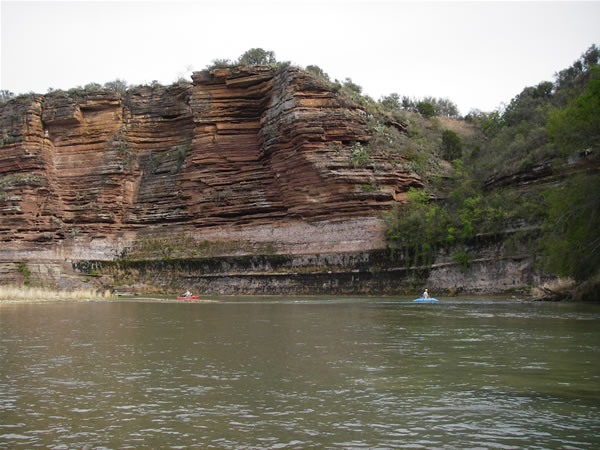 The boats were broken down and loaded into their respective vehicles and we headed out to dinner at a cafe in Mason, and proceeded to rehydrate, enjoy fine food, and comaraderie. We were fortunate to have lodging arranged for us in Castell, by Dan Cone, with whom we fished with on Saturday morning.
Saturday morning's fishing was at a slow pace, with everyone not fishing as hard as they did on the float trip the day before. Just enjoying the river and recovering. We saw some quite large fish -- carp, bass, catfish, and gar but weren't successful in our efforts to catch any. We got off the river about 1 p.m. and headed in to Castell for some BBQ.

If you're ever in Castell on a Saturday, stop in at the General Store for some BBQ, but be sure to ask to see the rooster's special talent. It will either make you laugh hysterically or scar you for life.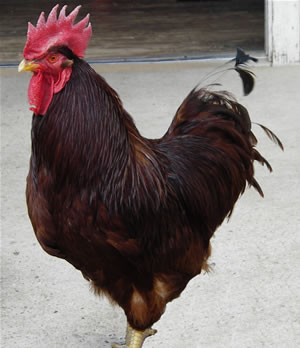 Note: Michael Brown is a past president of CTFF, and frequent contributor of articles.