Soft Hackles -- An Introduction
by Toby Vaughan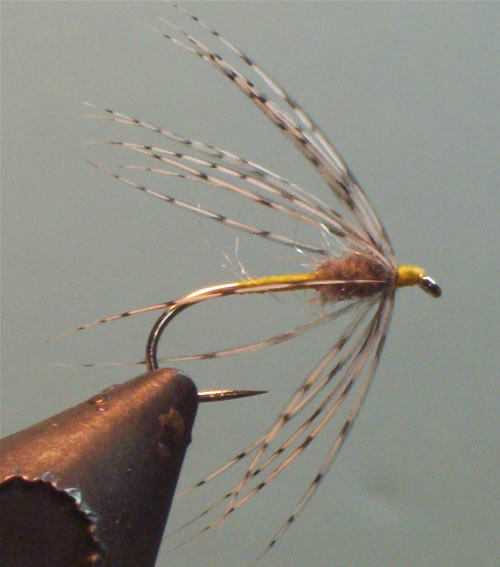 Often I am asked the question "If you could have only one fly what would it be?" Without hesitation, I always reply a soft hackle. The reasoning behind this answer is quite simple, "What other fly can be fished as a nymph, emerger or dry with near equal success?"
The history of the soft hackled fly can be traced all the way back to 1496*. You might ask what makes a fly a soft hackle. Legendary author and soft hackle historian Sylvester Nemes wrote in his classic 1975 book The Soft-Hackled Fly that a soft hackled fly is defined as "a class of wingless, subaqueous flies, the hackles of which come mostly from birds such as partridge, woodcock, grouse, snipe, and starling."
Why are soft hackled flies so effective? The answer to that question has been debated for as long as soft hackles have been fished. I believe the answer to the question of a soft hackled fly's effectiveness is "simplicity."
The feathers used to hackle these flies are soft in nature. Therefore, they move freely in the water. In a trout's world movement equals life, and I think the pulsation and movement of the hackle fibers trigger the fishes' natural predatory instincts.
The second reason I feel that a soft hackled fly will produce is the fact that a soft hackle is a great imitation of most of the aquatic insects that hatch on a given river. For example, a partridge and yellow tied in a size 12 could easily imitate a Pale Morning Dun or a Sulpher mayfly emerger. If you chose to replace the partridge with a dark hen or dyed partridge and you have a great caddis emerger. Change the body colors and shades of hackle color to match ANYTHING that may be hatching at that time.
I once heard the expression "a great fly doesn't look a whole lot like one bug but looks a little like a lot of bugs."

The third reason that soft hackles are my favorite fly to fish is that there is no real way to fish one wrong. I know I may ruffle a few feathers here, but hear me out. The traditional (and to me the most effective method of fishing a soft hackled fly) is the down and across method. Casting the fly down and across stream allows for the river current to work the fly for you resulting in short drifts. The only problem that I find hurts the presentation of the fly in this manner is the fact that you can "line" a fish or the fact that you are only fishing 1/4 of the fishable water around you.

Over the last couple of years I have began to cast across and slightly upstream in order to give the fly longer drifts as well as keep from putting my flyline directly over fish.

You can also match any stage of a given hatch with a soft hackled fly. If you would like to fish the fish the fly as a nymph simply add some weight to your leader and fish slowly on the bottom. To fish as an emerging nymph cast across and upstream and the current drift the fly, at the end of the drift (when the fly line is coming back to you) simply lift your rod tip high and hold the fly in the surface film. Fishing a soft hackle as a dry is also very effective during a hatch, simply grease your tippet/leader with fly floatant and fish like a dry fly.

In closing a soft hackle will produce strikes in any type of water (slow flat water or fast moving riffles) just adjust the method of fishing to the situation and HANG ON!
Note: *Two Centuries of Soft Hackles, Sylvester Nemes 2004 Stackpole books
Toby Vaughn is a friend of CTFF living and fishing near Siloam Springs, AR.