Seizing the Moment, Remembering the Past
by Mike Andrews
I was scanning the attractive new format of your CTFF website when I decided open the "Outings" tab of the home page menu. Much to my delight, one of the features displayed by fitting photos occurred on January 28th, 2001, when a delightful group of your members fished on the Guadalupe River for rainbows from Missouri. As editor of your neighboring Kerrville Hill Country Fly Fishers' newsletter, The Back Cast, I have an account of that outing that most of your readers have never seen. I will thus blend portions of an article I wrote at the time that will add some life to the pictures and bring back memories of and for certain personalities who fished for the large stocked rainbows that special day... Follow me as we go back in time.
[This account is written in the present tense as it was printed in The Back Cast, February 2001]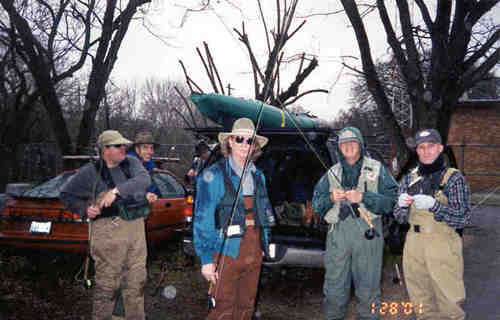 "Mike, this is Michael Brown with the Central Texas Flyfishers in San Marcos. Could several of us come to Kerrville this weekend and fish for those trout?"
"Sure, what day did you have in mind?"
"Sunday. So far, it would be Matt Jennings and myself, but there may be some others."
Thus began one of the most delightful fishing outings that I have ever experienced. Let me give you a little background. Michael Brown is the immediate past president of the San Marcos club. I met him several years ago while fishing at Bear Creek Crossing and would cross paths with him there from time to time through the years. He truly enjoyed the Bear Creek Experience" until he, like the rest of us, became a victim of the mounting negatives of too many power bait fishers and too few "sweet spots" -- finally only one big hole was left, and it was brutalized.
Along with Michael Brown, I occasionally met other members of the Central Texas Flyfishers either on the river or at the Texas Fly Fishing Show, where this gregarious group continually extended invitations for me and our club to fish with them. Fortunately, I now had the opportunity and delight to host them on a club outing to fish for the trout our club stocked this year downstream from the Indian Creek Crossing off of Old Ingram Loop on the Guadalupe River.
As it turned out, six of their members rendezvoused with me at the Texaco/ McDonald's just past IH 10 entering Kerrville on N. Sidney Baker at eight in the morning that Sunday. We had some coffee and quick breakfasts before heading out. It was a cool day with scattered showers and a front from the north predicted to arrive in the afternoon. I decided to take them to Ingram, park at the telephone co-op, and wade downstream to the trout area from the Indian Creek Bridge. Good fellowship abounded as we rigged up to splash our way to the productive section of the river.
The sound of rushing water and the sight of the long shallow stretch to the first little rapids whetted the appetites of our fishing friends. They were clearly impressed with the surroundings that they were viewing for the first time. The wading experience itself proved exhilarating as we bypassed the rapids by walking over a pebble-strewn island, then threaded our way through small sycamore trees to reach the deeper water where our trout were already leaping to the surface to snatch the small black insect hatch that was taking place.
These San Marcos anglers were quite knowledgeable and immediately identified the different types of insects that they spotted as they began trying to match the hatch. They began their day of fishing using dry flies and, in some instances, actually sight casting to specific fish.
"Wow!" What a catch!" What are you using, Matt?"
"These are going for a Goddard Caddis," was the reply repeated more than once.
Using that clue, even though I hadn't spotted any tent winged insects at the time, I tried a regular Elk Hair Caddis, size #14, just to see what would happen. I let it float, not really expecting a strike since I was watching a lot of very small black flies that had a hatch going. The Elk Hair Caddis seemed incongruous among the surrounding midges. Mostly, I was having fun watching all of the fun and excitement that was going on around me when, wham! A humongous explosion of water startled me before I realized that my Caddis had brought results. I really suspected that a big bass had stumbled into a bonus meal by the vigor of the take, but after several minutes of serious battling, I surprisingly netted a very nice rainbow. By no means did I make the first catch. Big fish were being taken at about five minute intervals all around me.
All the while, Matt Jennings provided entertainment with his booming voice, his witty remarks, and his amazing catches. We all had a good laugh when he attempted to stand on a submerged boulder, lost his balance, and then proceeded to perform a miraculous recovery dance to avoid a frigid dunking.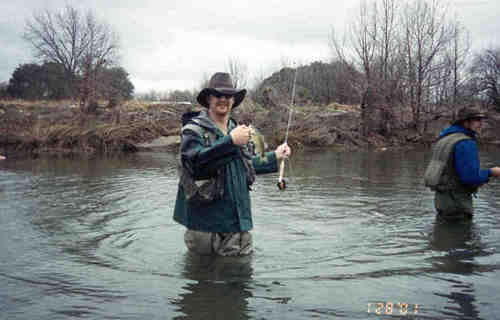 Nearby, Kim Heaston caught his first fish ever from the Guadalupe, and who would have guessed it would be a rainbow trout?
Avoiding the distractions to some degree, Bob Blagg was concentrating on repeated rises apparently brought about by a single trout. Bob kept making picture book casts to the persnickety fish and with determination achieved a successful hookup. Resounding yells of congratulations greeted his reward.
A bit off to the side near the north bank, Billy Wofford was trying out his new three-piece, 3 wt, Cabela's three Forks rod–a handsome little rod with good looking hardware and a real steal for the price. Billy initiated his new 3 wt. weight rod properly when he joined his friends with the catch of a handsome flash of silver and pink.
And then there was Kevin Duren standing about fifteen yards from me downstream casting to rises only to have his fly robbed repeatedly. A bit later, on the opposite side of the river, he began to hit the jackpot, ending up by claiming his fair share of catches.
Perhaps Michael Brown made the most extraordinary grab of the day when, after numerous catches, he landed a huge "golden" trout–they're actually albinos–that must have been 22" to 24" in length and was about as vivid as a setting sun.
Thus, the time passed in a most happy, resounding fashion. We all seized that precious day with gusto. As you look at the pictures of this outing on your fine website, maybe this account written at that time--now years ago--will bring a nostalgic pang of a jolly good venture well spent.
Note: Mike Andrews is a charter member of Kerrville's Hill Country Fly Fishers, who has been editor of the club's newsletter, The Back Cast, since 1995. In that role, and also secretary of the club until recently, he has written countless articles and reports on fly-fishing events and activities. He also has been heavily involved with teaching both adults and youth as an FFF certified casting instructor. A retired English teacher, he now finds great pleasure in both writing and fly-fishing.