Soft Hackles — Part II Tying
by Toby Vaughan
Now that we have discussed a little about the history of soft hackled flies, let's discuss the tying process. Soft hackled flies should be dressed sparse, meaning a short body and only a few turns of hackle (no more than 2 turns of hackle for this style of fly).
Most soft hackles are tied on fairly heavy short wet fly hooks. I find that a standard light wire dry fly hook is more suitable for my flies. My favorite hook is the Daiichi 1182 in a size 16.
The body was traditionally tied with a fine floss body, but the floss can be rather hard to obtain so I have been using 8/0 Uni-thread in the appropriate color to match the naturals in the water.
The fly have chosen for this article is the immensely popular Partridge and Orange. Please feel free to change body colors and or types of hackle, the possibilities are endless.
Partridge and Orange
Hook: Daiichi 1182 size 14-16
Thread: 8/0 Fire Orange
Hackle: Hungarian Partridge ( or any other "soft hackle" feather)
Thorax: Super Fine Grey dubbing
Head: Tying thread
Step 1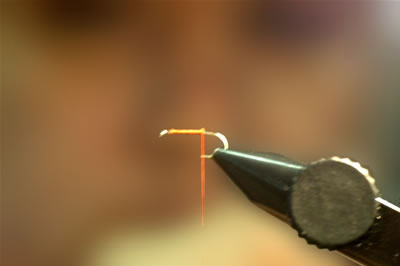 Mount the thread and wrap to the point of the hook. North Country Spiders are traditionally tied with a short body. Spin your bobbin to flatten the thread.
Step 2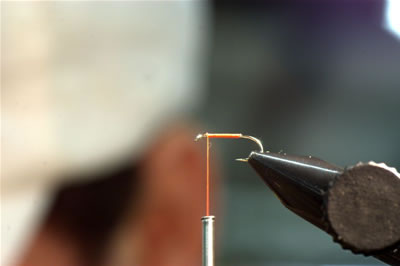 Wrap the thread back to 1 eye gap behind the eye of the hook
Step 3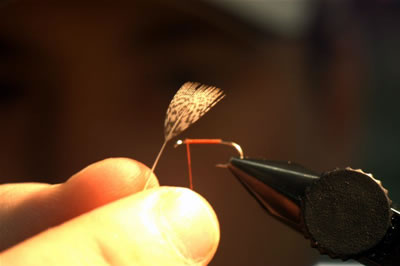 Select a feather (in this case partridge and strip the fluffy feathers from the bottom of the stem.
Step 4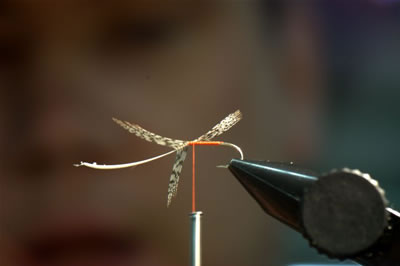 Tie the feather to the hook as shown Then stroke the fibers away from the quill as you would if you were to palmer a feather.
Step 5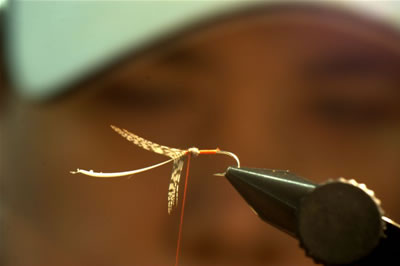 Clip the excess feather at the back of the hook. Dub a section of thread with the fine grey dubbing and build a neat thorax of dubbing immediately behind the feather's tie in point.
Step 6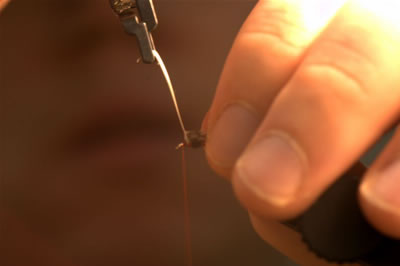 Attach hackle pliers to the bare stem. Use your free hand to hold the fibers in place, releasing them as the hackle pliers are rotated around the hook (this provides for additional control and a neater distribution of the fibers).
Step 7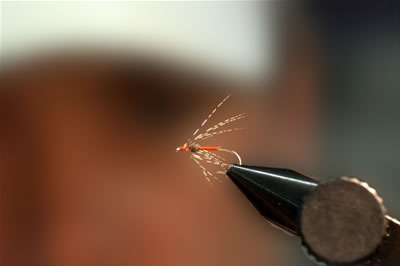 Make one or two wraps over the stem of the hackle, taking care not to trap any fibers. Whip finish toward they eye of the hook building the head as you move forward.
Note: Toby Vaughan is an avid fly fisher and tyer residing in Siloam Springs, AR.