How I got into Fly-Fishing
by Chris Cohen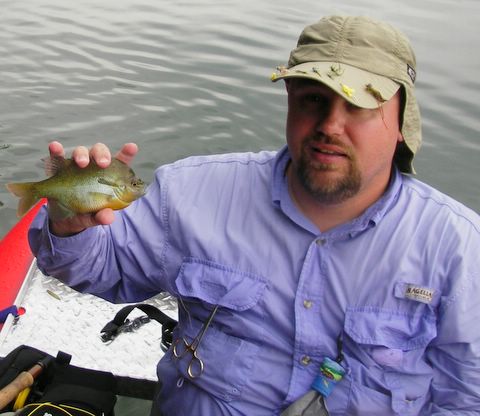 I grew up fishing with worms, minnows and artificial lures just like everyone else. As a kid, I lived 200 feet from a huge lake and spent many hours catching anything from sunfish and bluegills, bass, bullheads, as well as northern pike and even a couple of small musky. When I was about 12 we were at a garage sale and I saw an old bamboo fly rod and reel. I did not really know what it was. It just looked fun. I forgot about it for awhile. Then I saw some show on television that had a fly fisherman in it. That was it. I was enthralled. I always wanted to do that someday.
That someday was about 15 years later. My wife and I moved to Seattle, WA. We lived very close to Pass Lake, a popular fly fishing only lake. I had to drive by it everyday. There was always some float tubes on the lake. I would tell my wife that is what I wanted to do.
A year later my wife surprised me with a Sage DS2 and Ross reel for Valentine's Day. This was great!! However I still had no clue on what to do. So I signed up for a brief intro into fly fishing class at Kaufmann's Fly Shop. This helped me to learn to cast. This was quickly followed with a vise and a tying lesson. So now I had an idea how to cast and tie a few go to flies. Still no idea what to do as far as fishing. So I tried the local ponds by myself to no avail. I tried the local clubs but they were a bit too snooty to help a beginner.
So, I decided to do what I saw everyone else doing. I bought a U-tube and waders and set out to a local lake. No luck. Finally I met someone online that was willing to go out together. We went to another lake that a fly shop had mentioned to us that had been just stocked. Not more then 5 minutes of pulling around an Olive Wooly Bugger I felt the best feeling you could ever have. A tug on the end of the line. That tug turned out to be a 7-inch rainbow.
I have been hooked ever since.
Note: Chris Cohen resides in Lockhart, TX with his wife and kids. He's always up for trying a new stretch of water.