A River's Spell
by Michael Brown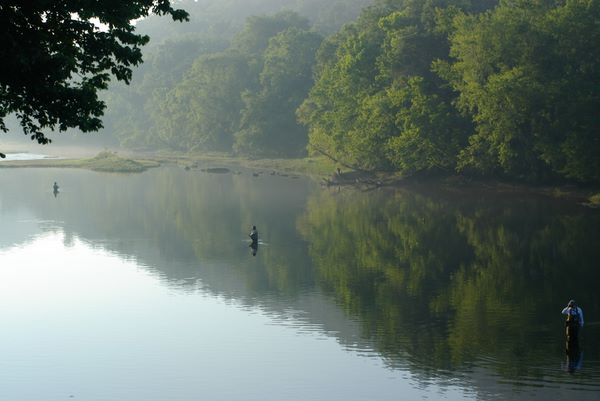 Seemingly imperceptible at the very limits of aural reception, you sense flowing water. It calls you beckoning you to take a look. Do you heed its call with anticipation?
This anticipation is the same regardless of whether this is your first ever visit, or your thousandth. On your arrival to its banks you scan the surface looking for telltale signs of aquatic life, while simultaneously surveying the water's depth, clarity, and speed. You hope that you've arrived at your personal paradise.
You watch and wait, in a trance-like state, enchanted by the river's spell. All the while the calculations are underway, determining what fly to use and in what size. Not seeing surface activity, you search for and tie on your favorite searching pattern. When you again turn your eyes skyward you notice that there is now a hatch underway. Glancing at the water, you begin to see dimples appearing, here and there. You're now faced with the dilemma of sticking with the fly you searched for, and using that for a few casts, with the hope that the hatch will continue long enough for you to change to a fly that closely matches the hatch, or immediately going with the match. You think to yourself, "What a wonderful paradox in paradise."
Regardless of the decision, you prepare yourself to make that first cast. If a fish is actively working, the pressure is on. Don't blow that first cast by making a big splash, or by lining the fish, or the ever-popular "snag the fly in streamside flora." That first cast can set the tone for the day. With relief your cast does what it's supposed to, the fly is presented, you're fishing.
Did this process take several minutes, or did it take an hour? When enchanted by a river, time and place are irrational concepts, irrelevant in the here and now. When was the last time you were enchanted?
Note: Michael Brown, is current CTFF Vice President. He also thinks he doesn't spend enough time on the water.