Fly-tying delivers joy
by Bill Wofford
You have heard me talk about a young man, 9 years old who is suffering from an inoperable brain stem tumor and what we are doing to make his days happier. He sketched some flies that in his imagination would catch fish on a fly rod. His aunt contacted us a couple of months ago to see if we could take these sketches and make them into flies, that it would help him overcome some of the tragedy that is plaguing his young life and perhaps make at least one more day happier for him.
As usual in times like these when youngsters are hurting CTFF responded with great enthusiasm by rising to the occasion, copying his flies, arranging them into a fly box and presenting them to him.
On September 27 Brian Watson, Terry Blackwell and the author went down to his Grandparents, in Sandia, Texas, who have a place on Lake Corpus Christi. We were greeted as friends and family by his family. We were told that in his wild anticipation and excitement of the event, that he had hardly gotten any sleep the night before. Their early morning dawned with the excitement that only a nine year old could provide. For the next few hours until we arrived the only question he had was "have they come yet"'
We were not expecting what we saw, a young man who had not yet experienced life already confined to a wheelchair. Despite this, it did not dampen his enthusiasm upon seeing us. He still had a strong hand shake and eyes bright as twinkling stars on a clear night. You could feel the love the family had for this boy and to see him so happy.
Knowing that he was anticipating the event and that they had not told him our real reason for being there other than that some fellow anglers were coming down with a surprise, we could not delay his anticipation any longer.
I started out by asking if he remembered drawing any pictures of fly fishing flies. He nodded yes. And I asked if he remembers the "Hell boy" he had tied and showed it to him. His eyes lit up with such excitement that is usually reserved for Christmas morning, and then I then showed him the box of flies that he had sketched and that we had copied. Some of them I had labeled them with the names of flies from his sketches. We went through most of those in the fly box one by one. I was surprised but there were 26 flies in that box. Words escape me to describe his reaction to all this. I then presented him with a second fly box that we had put together with flies that are some of our favorites.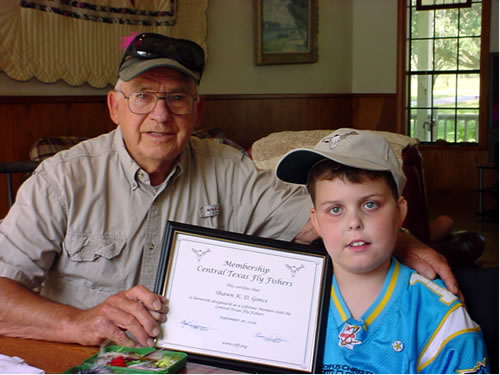 No event such as this could be passed up without a formal induction into our club. Brian had made up an "official" certificate of membership inducting him into CTFF as a lifetime member. This was framed and signed so that he could hang it on his bed room wall. Then Brian pulled out the one thing that all kids need and would wear our official cap thanks to Mike Brown. He wore this hat the remainder of the time we were there and his grandmother said he wore it bed that night.
Terry informed them that even though he did not have a fly rod, he could use a bobber and put the fly some two feet below the bobber and cast it as though it was bait. He knew what Terry was talking about. Then his said that he was trying to find a way for him to do that as he could not hold and cast a rod. Once again Terry came through with a suggestion. We went out to his boat and terry showed him the rod holder for a fly rod and explained that he could mount the base onto their fishing deck or with a slight modification could mount it to his wheel chair.
I called his grandmother on October 13 to find out how he was doing. She said that he has his good days along with some bad days, but that this past week was good. His doctor said that the tumor has shrunk and is not presenting too much of a problem. However, other problems are cropping up and she did not elaborate as she was not alone. She did say though that whenever he has a bad day, he disappears for a while. She said he always goes into his room and gets the flies and touches each of them and she can see a marked improvement in his manner. He had to take a fly box to Houston to show his doctor. Hope that this make you all feel better, our goal was reached, and we made a little boy very happy.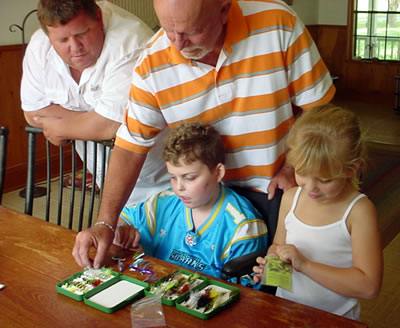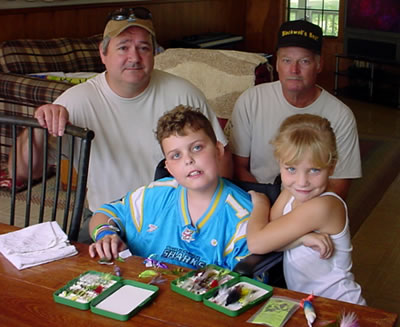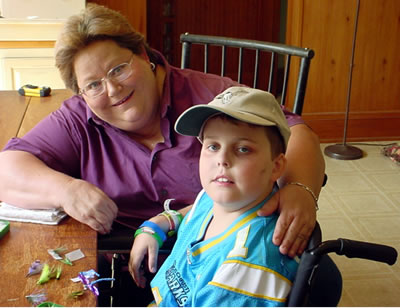 Note: Bill Wofford is CTFF's man of many hats. He and his wife live in San Marcos