A Guide's Perspective on Summertime Fishing
by Marcus Rodriguez
Good evening my fellow anglers.
I am sitting on my couch after a long and brutal few days in the sun. With temperatures being in the 100s and me being exposed to those temperatures...I am radiating tremendous heat, and for some odd reason my home smells like bacon.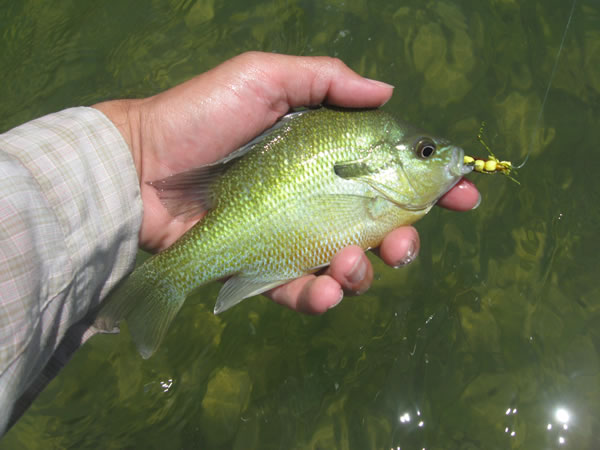 Let me say this. For those of you not braving the hot temperatures, you're missing out on tremendous fishing. For those of you (you know who you are) who have been out and about, plying the warm depths and shadows of slow moving rivers, lakes, and bays, give yourself a pat on the back and know that you are part of the brotherhood of the sun.
For the most part, the fly fishing on local rivers has been awesome! I have been guiding and looking like a fly fishing genius. The thing is that it ain't me...I am just paddling, keeping clients in perfect casting position, and of course giving a few nuggets of fly-fishing knowledge. The fish however are slamming flies with reckless abandon. When large hand-sized bream and nice bass are launching themselves out of the water to smash a popper, it does not take long to realize that fishing is pretty good.
Recently, I had a chance to do some fly fishing for myself. I ran up to the Llano River and fished the rock garden just above U.S. Highway 87. I parked my truck under the bridge, rigged up a fly rod, and made my way upstream. As I walked to the river, grasshoppers jumped and clicked in riverside grass. Before getting into the water, I decided to change my fly from a Matt's Bug, to a small yellow foam hopper. I think I made a wise decision.
I walked to the first run upstream of the bridge. The water was warm like soup, but there were a few fish holding shadows along the bank where the current was not too strong. My first few casts resulted in great hits, but I managed to miss every strike. Missing a few fish is a great way to get in a groove with the river. I made a few more casts and hooked up solidly with a few nice bream.
There is something very special about casting a foam hopper -- it is one of my favorite ways to fish. I love casting hoppers with long leaders to cut banks or banks full of riverside grass. I like to cast my hoppers with some force on my forward cast. I aim my flies where the bank and the water meet. I like my hoppers to land with a hard splat! I will let the hopper sit motionless in the water for a few seconds. If a strike does not occur, then I give the hopper a few hopper-like twitches. I will twitch and pause the fly for at least five feet. If a strike does not occur, then I will cast again. Usually, a strike occurs immediately.
It is nice to get out there and catch a few fish. So, to all my fellow anglers, it is summertime, it is hot, and I encourage all to jump into fly-fishing and get your feet wet.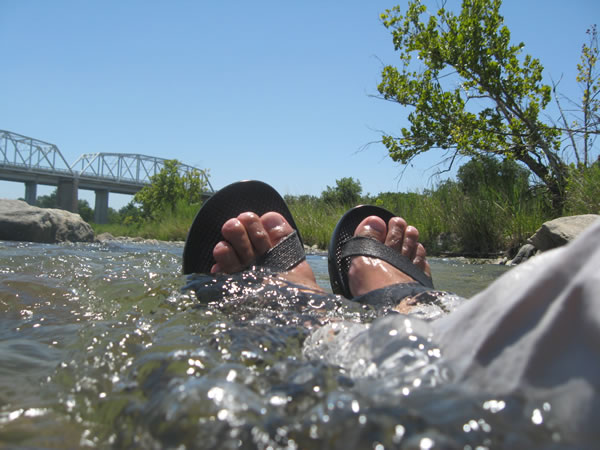 Note: Marcus Rodriguez lives in San Antonio with his wife and daughters. He was tired of the spaghetti article and wrote this one. If you ever need an experienced guide to Hill Country waters, Marcus is your man.