Home Waters
by Mike Davis
I recently obtained a copy of the book Darwin's Bass – The evolutionary psychology of fishing man by Paul Quinnett. Mr. Quinnett PhD is a clinical psychologist as well as a dedicated fly fisherman. He has written several books on the psychology of fishing and although I have differences of opinion on some of his observations/conclusions I find his work insightful, entertaining and not overly academic.
He starts off the book describing a lake at dusk with lily pads, advancing darkness and coyotes howling in the distance: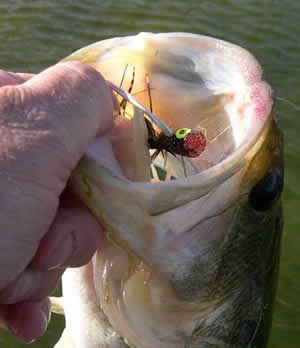 For a bass to strike with force and certitude, it must first orient to its prey, then coil energy inside itself, loading power and tension into its muscles and sinew, Locked onto its target for the killing strike, the twitch of the lure is the trigger. Oh, how I love to pull the trigger.
The relationship between the bass and me is an ancient one, too ancient to even understand. Some say bass have been killing prey for at least 500 million years. … The bass may not care about our shared history –but I do. He may not need me. but I most certainly need him. (Darwin's Bass pg 13-14).
He relates another story vividly describing a fishing scene. The perfect cast to the submerged log, the huge strike, the bass emerging from the water iridescent green with huge yellow eyes and the water exploding into thousands of droplets as if in slow motion. He describes the scene vividly and then he sets the hook so forcefully – It wakes him up!! What a story, and it is one I personally can relate to. The author explores the workings of the mind and the clinical reasons for why we fish – why we have so many lures and flies, but I was especially intrigued by a chapter entitled - The Curious Psychology of Home Waters.
Sometimes a man hits upon a place to which he mysteriously feels he belongs. Here is the home he sought, and he will settle amid scenes that he has never seen before, among men he has never known, as though they were familiar to him from his birth. Here at least he finds rest. (W Somerset Maugham 1919).
When I think about my home waters they most likely will be different than yours but words alone cannot create your home water. My home water is a special place where everything seems to come together. I encounter life and death situations every day as a health care professional and a retreat to the home water is a place where everything seems to come together. A calm settles in – It is the twitch of the lure – the cast to the left of the stump – the water pressure pushing against the waders – the sound of teal flying overhead. Things start to smooth out – So what is it about that place?
For many of us we think that home water is a place in our youth. Perhaps the place where as a child you learned to fish, or caught that special fish, or a place where it was you and a special person such as your dad or brother shows you. I had such a place. I grew up in suburban Houston and my family was fortunate to be able to have a small cabin on a lake in East Texas. I started out fishing with a cane pole and worms and then graduated to a fly rod at age 9. We had a small wooden row boat that my dad christened "The Sieve" that he and my mom used. East Texas lakes limit the prospects for fly casting from the banks because of all of the trees so I quickly learned to wade the shallows in search of fish that would hit the poppers purchased from Western Auto. I had one special spot on that lake – a big cove that was reached by hiking through a heavily wooded area, climbing a high bank and conquering all types of obstacles to get to my secret place. I especially remember one morning when I was fishing in waist deep water and a heavy fog rolled in rather quickly. I could not see 10 yards in any direction. Pretty intimidating for a young guy of 10 but I just kept on fishing until the sun burned off the fog a couple of hours later. Numerous adventures followed and I thought that this should be my home water.
I had the opportunity to go back to that special place a while back. Strange that the huge trees at lakeside were not so large any more – the cove was really quite small and the secret place that was so hard to get to was really quite easy to navigate. I wondered has this place changed – or have I changed? I am sure the answer to both is -Yes. A great place of remembrance but not home water.
I am convinced that returning to home waters is a great thing – I know it is because I can feel the difference between my special place,, and say floating the Guadalupe. Someplace else I love to fish but not home waters -to quote Maugham- "He mysteriously feels he belongs"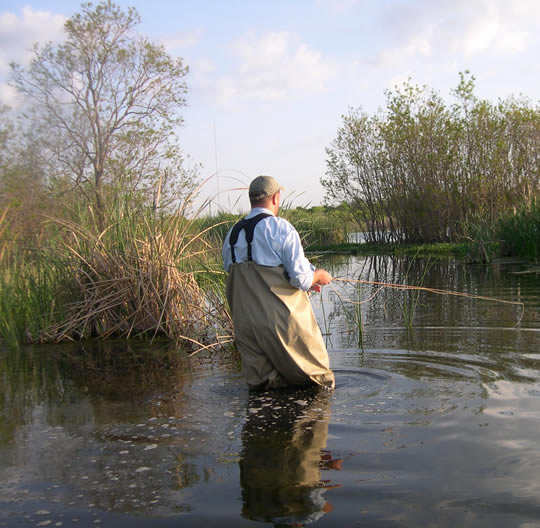 I have been fortunate in that I have found three places that I call my home waters. First and foremost is a small cove on a private lake in my neighborhood. It is not overly special – not especially beautiful -but it embodies all of the elements of home water to me. The fish are but a small part of this home water, but they are an important part. Also important is the beaver dam, the trees holding the flocks of white wing doves, the ducks that feed here, the Great Blue Heron that catches far more fish than I and the beautiful sunsets. I visit this home water often and plan to continue for many years to come. It is my special place.
My second home water is on the Nueces River in West Texas. Clear waters, rocky shores and the innate wildness of the place create a feeling of wonder and familiarity. The Nueces River valley around Uvalde has long been the stronghold of Comanche and Apache Indians. The country has changed little – bits of civilization here and there carved out by hardy souls – but the river and the fish remain. The area is remote – stories say the area was the haven for outlaws and desperadoes for many years due to the vastness of the country. The land is dry and harsh – only refreshed by the river as it winds to the Gulf of Mexico.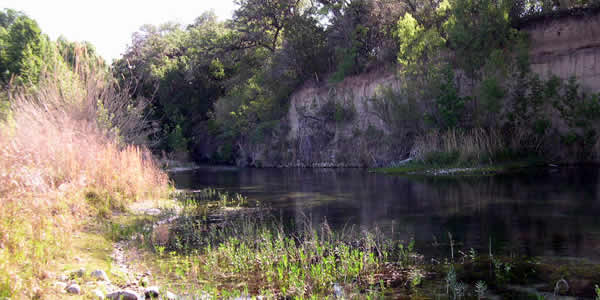 My special home water is a stretch of river about 100 yards long. To get there requires a drive through private property on dirt roads, through 3 gates and then a walk through the woods to the river. The drought has made the river a fraction of what it is normally, but it still remains. A huge oak tree on the far bank and a large truck sized boulder mark the beginnings of a pool that is home to bass, sunfish, catfish, Rio Grande perch as well as snakes, frogs and a host of other critters. A high rocky bank with a cliff top at least 60 feet high towers above. This is my home water – the quiet is palpable, the history of the land is evident – I can almost picture Indians camped along this beautiful stretch of river. Yes this is one of my home waters – I plan to return often.
My third home water is a place I have only been one time, but the majesty of the place, the history and the wonder of nature make it special to me. The Russian River 2.5 mile above the confluence with the Kenai River in Alaska is my final home water. My solo visit to that area however has cemented in my mind the majesty and wonder of the place, The cold clear water and the thousands of salmon swimming by made me feel immensely small in the scheme of the world, To witness the migration of the salmon swimming literally between your legs and seeing the eagles and bears and the mountains was close to overwhelming. I am physically connected to the place and I go there often in my mind – through recollection and photographs. It is truly a special magical place – Home water for me.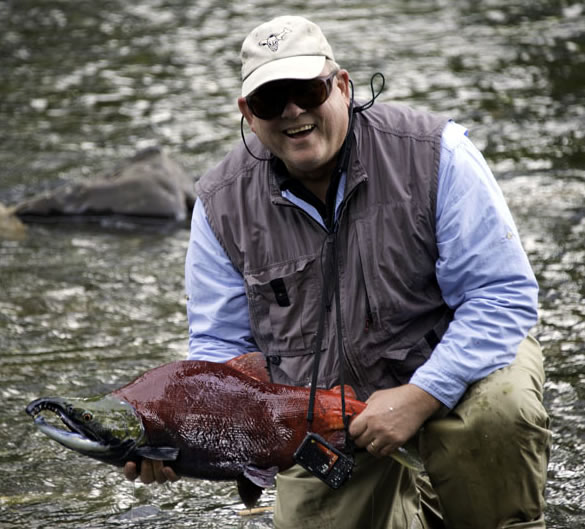 In closing I hope that you will find home water. I intend to find several more before I leave this earth.
It's funny how the brain works, how it makes permanent certain visual memories. I can go to home waters, cast to the corner of a rocky cove, and remember, with perfect clarity, a trout I took from that exact spot maybe fifteen or twenty years ago. I can't remember who was with me or how old I was or what was happening in my life, but I can remember the trout, the color of it, the heft, the fly it took .It is better than a camera because with the remembering, there is a tightening of the throat you don't always get from the photo…Maybe you have fished a thousand waters, but asked if where all of those places you would want to be together again for one last fishing trip, the answer would be obvious. Why? Because that is where the bulk of the treasure is stored.(Darwin's Bass)
I have fished a lot of different waters and I plan to fish a lot more – but there are but a few places where- you know…
Mike Davis (Mike6)
February 2014
Note: Mike Davis, a past president of CTFF, lives in Kyle, TX and is often found testing candidates for a new home water.