Thankful
by Mike Davis
Initially; I planned to make this posting about the "deeper" aspects of fly fishing and what it has meant to my life. My schedule on Thursday showed no patients for Friday and a free upcoming weekend combined for a impromptu exodus to one of my favorite fishing areas - the Nueces River north of Uvalde. The recent rains in the area (4-5 inches) two weeks ago have piqued my interest. So with a pass from my lovely wife I packed my stuff - got up at 3:15 a.m. drove 3 hours and was on the water by 6:30 a.m.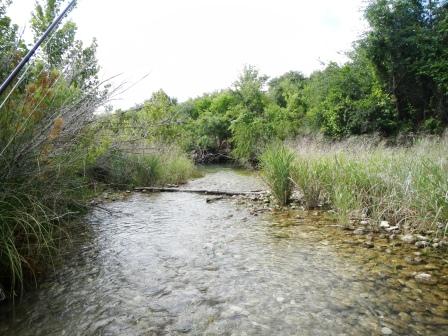 The Nueces by itself is not unlike many Hill Country rivers but it holds a special appeal to me. It is remote - requiring a 3 hour drive from Austin and a much longer commute from the bigger metro areas of Dallas and Houston. The same remoteness was certainly a factor in the days of the Comanche Indians , where the Nueces canyon was a stronghold for them, and later a haven for outlaws and other nefarious characters.Years of drought have dwindled the river; but the remaining waters are clear cool and beautiful. I hope to be able to navigate the river by canoe or kayak once flows return. The thought of floating areas that are now only accessible by long walks over rough terrain is very exciting. Friday, I made one of those long walks.
My plan was to park at my friend's ranch and walk upstream to an area I had fished before. The area between the points was about 3-4 miles of river that I had never seen. I packed water and food - a bunch of flies and arrived at the river. Now the path to the river is not easy. The bank here is high - about 20 feet of dropoff to the water but the kindly landowner has provided a way down (or up). A 1" rope is securely tied to a tree and dangled over the cliff to the water. So over the side I went - Going down was much easier than the trip up at the end of a walk !. No waders this time of year and the cool water on my legs was refreshing. Clouser minnows have been the fly of choice my previous trips and today was no different. The river is crystal clear with every detail visible down to at least 10 feet of depth. My first cast to a rocky shore - and from out of nowhere several bass pursued Mr, Cluser from the surrounding rocks. A nice 14 inch Guad was the first to take the fly. How lucky I am to be here " I thought. How many people in this world are simply unable to enjoy what I have at this moment - It made me very humble and thankful for the experience. A simple thing such as fishing and catching a small fish in such a wondrous and beautiful thing became a spiritual event for me that was one of my life's great moments. I was truly blessed by God that day.
The rest of the day was spent walking over the rocks and catching dozens of bass and perch. Perch were in a spawning mode and I literally could catch them at will . The bass were active - the largest was a 19" bruiser who slammed my clouser as it sank by an undercut bank,
Pictured are a few of the scenes and fish - The clouser pictured is all that remained after catching about 50 bass
.
The first picture shows a small pool at the end of a riffle where I was able to catch about a dozen bass - 5 of them larger than 14 inches.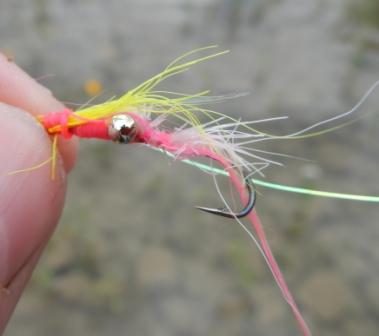 The trip was wonderful - it enriched my soul - it made me thankful for everything that I have - family, friends, and country. Fishing was a small but integral part of the trip - I delighted in each and every cast and was excited at each hookset and the pull of the fish on the line - especially the big ones.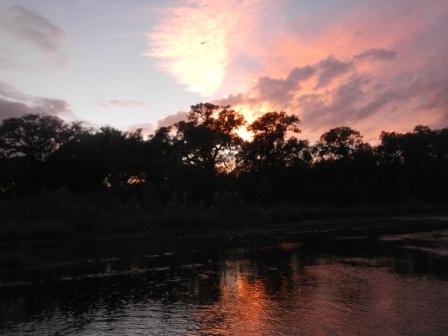 Note: Mike Davis, a past president of CTFF, lives in Kyle, TX.